Get automated with quality motorisation options for your new blinds and awnings.

Offering high quality motors and systems that will simply automate your outdoor / indoor environment.
Having a motorised awning gives you the option of adding wind sensors. A wind sensor gives you the freedom to leave the awning open in the knowledge that the sensor will register high winds and automatically close the awning.
Save on your energy bills with this easy to use external retractable system. Urban Track can be powder coated to any colour and is available in a choice of spring, crank or motor operation. Create privacy, climate control (block wind, rain and sun), and add further living areas outdoors. All metal components are aluminium or stainless steel that won't rust. Plastic components are fibreglass infused for greater strength and UV resistance. Bottom rail is sturdy and can be weighted for larger blinds. Side rails hide and protect keder to prevent UV degradation in harsh sunlight.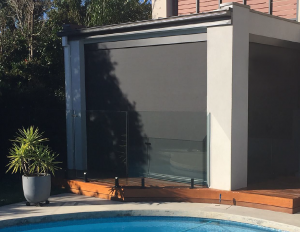 Features and Benefits:
• All season climate control; heat reduction & coolretention
• Save on energy bills
• Smart slim line tracking system
• Rust free aluminium and stainless steel construction
• Proven under harsh Australian conditions
• Blind can be set in any position
• Powder coated to any colour
• Heavy duty keder track system for durability and reliability
• 3 types of operation; spring, crank, motorised
• Add value to your home
• 5 year warranty on components, powder coating*
• Unique patented central locking system, accessible from inside and out
• Available in the following Colorbond® colours
Allstruct Outdoor Blind Gallery - Retractable Blinds and Oudoor Specialist Perth
Average rating:
0 reviews